---
9 content marketing tools every small business should have
For small businesses, content marketing is one of those things that doesn't seem that impactful to begin with. While it can then grow into something substantial over time, making audiences care about a website for a small business can be a daunting task.
However, it's now easier than ever to promote one through content marketing, thanks to tools designed specifically for that purpose. Here are 8 of the best you can use for your content marketing.
The first step is knowing more about your target audience and your niche, and BuzzSumo helps with that. It's jam-packed with features, including research tools.
You can find out various things with it like what the hottest stories are around a given topic, the viral pages on a competitor's site, content you can share and curate, the best targets and influencers for guest posting, and so on.
BuzzSumo is a versatile tool that you can use for both market research and content marketing. The basic version is free, while the more feature-packed version comes in three packages.
There's Pro at $99 per month for small teams and content creators, Agency at $299 per month (comes with Facebook Analyzer) for medium-sized teams and marketing agencies, and Enterprise at $999 per month for larger companies and publishers.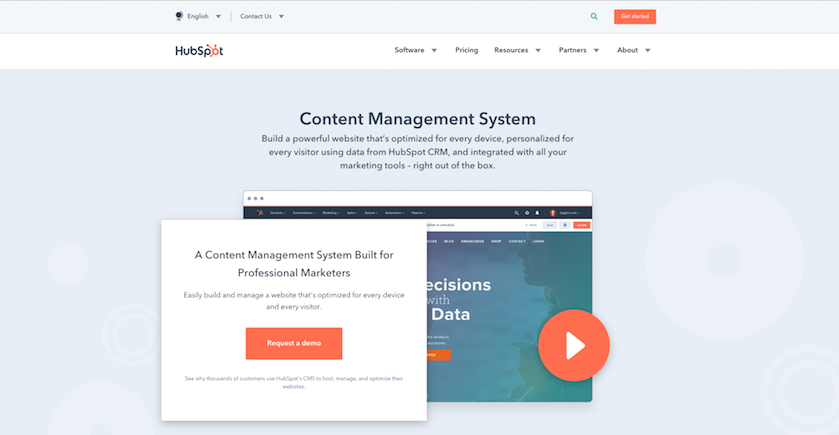 Coming up with a topic to write about can be difficult at times. You can rely on techniques like writing a blog post as either an answer to a question, solution to a problem, objection to an argument, or so on. However, mental blocks are sometimes unavoidable, and it can really hamper content creation.
This is why a tool like HubSpot's topic generator is a necessary addition to your content marketing arsenal. You can enter three nouns related to your niche in there and it generates five topic ideas for you.
You can then work off of those ideas and come up with an angle for a topic that you can write about. While it's not guaranteed to pop something up that's guaranteed to go viral, it can still help you get out of a slump.
Once you have a team that works on your content, managing who does what and on what day a post is supposed to be submitted and published can be daunting. But with CoSchedule, you can organize your content team with an editorial calendar and other management tools to straighten things out.
CoSchedule comes with a great layout that lets everyone on your team see clearly who is supposed to work on a certain post and what's scheduled to publish on what day. The team can also communicate in each post and coordinate on what workflows everyone goes with.
You can also manage content from Google Docs and Evernote and convert them into WordPress posts within CoSchedule. It has several integrations with other platforms to greatly simplify content marketing tasks.
CoSchedule comes in premium packages starting at $15 per month, each with their own special features that fit different content marketing styles and workflows.
Optimizing your content means understanding your audience's behavior and tendencies when they're viewing your website. That includes where they look, where they tend to click, how quickly they scroll through your content, in what parts they look at the longest, and so on. Crazy Egg has all the tools needed to learn about these things.
Crazy Egg is known for its heat map, which shows where visitors click, which can give you an idea on how they engage with your content. It also has scroll maps, overlay maps, and its signature confetti report. You can get information on various sections of your website, letting you know whether your content is working as intended or not.
Upon knowing all this information, you can then work on your web layout, how your content is structured, where your CTAs should be located, and so on. That should help you get more engagement from your readers.
Crazy Egg comes in a Basic plan at $9 per month, which includes daily reports for 10 active pages and 10,000 visits per month. You can also opt for the Standard plat at $19 per month, Plus at $49 per month, and Pro at $99 per month to cover more pages and page visits.
This is a WordPress plugin designed for lead generation. It lets users create calls-to-action that do things like create popups that prevent an abandoning visitor from leaving right away, as well as engage users that have been inactive.
You can build your mailing list, promote your content, and increase your conversions in your website with Convert Pro. Its lightweight design ensures minimal impact to website performance and its reasonable price makes it accessible to just about anyone who is serious about generating leads for their business.
You can choose between an annual license for $99 or a lifetime license for $399, with both allowing its use on unlimited websites.
Facebook Messenger marketing is becoming more and more an integral part of digital marketing as a whole. Taking advantage of the world's largest personal messaging platform is a must, especially with the higher open and clickthrough rates it gets compared to email marketing.
That's where a good chatbot comes in to make things easier. MobileMonkey is a great chatbot platform that lets you build your own chatbot in as little as five minutes, and you get features like the Comment Guard autoresponder and chatblasting, that allows you to send messages to your engaged fans. You can promote your content with MobileMonkey and see incredible results.
Email marketing plays a crucial role in content marketing. Among all the tools available for it, MailChimp is the most commonly used email marketing tool out there. It's a tried-and-tested solution for automating emails and sending them to different audiences.
You can create your own newsletter either from scratch or from MailChimp's library of templates, and then segment your mailing list based on preference, behavior, previous sales, and so on.
These audiences can then be targeted with scheduled newsletters, as well as automated ones sent every time you publish a new blog post.
MailChimp then tracks your email marketing campaign's performance and gives you reports on clickthrough rates, social media shares, and so on.
Most of these features are available for free if you have less than 2,000 subscribers and you send up to 12,000 emails per month. Premium packages are also available and quite affordable, starting from $20.
Putting up regular posts on your social media channels is important for content marketing. But doing that consistently can be difficult over time if you're doing it manually. While you can schedule posts on platforms like Facebook, some don't have such an accessible feature.
That's why you want a social media scheduling tool such as Buffer to manage posts on your channels. Buffer allows you to schedule posts to multiple social media platforms well in advance with ease.
The free version lets you post to three social accounts, while the premium packages start at $15 to let you post in more.
Tying it all together is the ability to track your performance and know if you're doing well or if you need to change something to do better. There's no better tool for that than Google Analytics. If you're not using it yet for your content marketing, you should do so right now.
You get to know how much traffic you're getting, where it's coming from, from whom it's coming from, and so on. You get to learn who your actual audience is, which lets you adjust your content to their preferences. All of Google Analytics is free to use, which makes it invaluable.